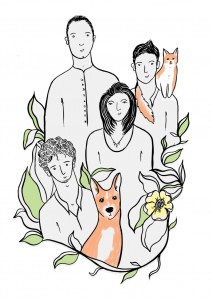 From the Kumaon Himalayas to a plantation home in the forests of Coorg.  We have been fortunate to acquire, over the years, holiday homes in two very diverse territories which showcase the natural beauty of India.
Our Coorg home was inherited along with a 60-acre coffee and pepper plantation, and a 2-bedroom guest house.  Located very close to the Nagarhole Wildlife Sanctuary and other local attractions, we visit 'VANSUKH' regularly for the upkeep of the plantation.
With a deep connection to the Himalayas, primarily due to a passionate mountaineer in our family, it was only a matter of time before we cemented our relationship with the mountains by constructing 'HIMSUKH' –  just beyond Ranikhet in the Kumaon region.  The 3-bedroom wood and stone cottage boasts of a fabulous view of Nanda Devi and Trishul in the Kumaon Himalayas and makes for a rejuvenating break just about any time of the year.
Over a period, we hope you will be able to visit both our holiday homes.  Whether we are at any one of these homes during your visit, or not, you will be well looked after by our courteous staff.